Give back to your community by
Supporting the Red Cross
Send monetary contributions to:
American Red Cross
Genesee-L apeer Chapter
Fund Development
1401 S. Grand Traverse
Flint, MI 48503
The American Red Cross responds to a disaster in the U.S. every eight minutes. Whether an entire region is devastated by floods or one family's home is destroyed by fire, the Red Cross provides food, clothing, counseling and shelter to those in need.
While most of the disasters the Genesee-Lapeer Chapter respond to do not make sensational headlines or make the nightly news, the disasters our chapter respond to on a daily basis are just as devastating to their victims as the ones that do. It could be a house fire, a flood or a tornado – emergency situations that put the lives of people in jeopardy and destroy hopes and dreams in seconds.
The American Red Cross Genesee-Lapeer Chapter's Disaster Fund enables our chapter to give immediate help to people affected by both widespread disasters such as tornadoes and smaller disasters that occur throughout our community everyday, such as fires that may affect a single family or whole apartment complex.
Our Disaster Fund is the primary funding source that enables disaster victims to get help right away, regardless of type of disaster, disaster location (within Genesee and Lapeer counties) or the individual's ability to financially contribute to relief services. The Disaster Fund enables us to deploy our resources quickly and efficiently.
All Red Cross disaster assistance is free, made possible by generous donations of time and money from the community. To help local victims of disaster in Genesee and Lapeer Counties, send donations marked Disaster Relief Fund to the American Red Cross Genesee-Lapeer Chapter, 1401 S. Grand Traverse, Flint, MI 48503. Your gift enables the Red Cross to provide shelter, food, counseling and other assistance to those in need. For more information, call 810-257-0747.
Do you know someone who has saved a life?  Nominate that person for our annual awards dinner, A Salute to Everyday Heroes.  For more information, click here.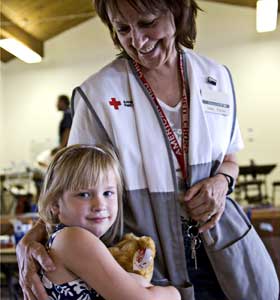 © Copyright 2012-2023 American Red Cross Genesee-Lapeer Chapter. All Rights Reserved.
1401 S. Grand Traverse, Flint, Michigan (810) 232-1401 Lapeer County residents call 1-800-608-4272